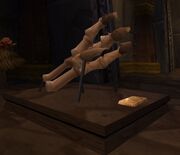 The Roc Talon is located in the Hall of Explorers in Ironforge. [76.5, 23]
This petrified talon was found off of the southern coasts of Stranglethorn. Ecologists believe this talon to be that of an ancient sun roc. Though the creatures feature prominently in primitive tauren mythological cycles, the existence of this talon suggests the creatures truly existed at some point.
External links
Edit
Ad blocker interference detected!
Wikia is a free-to-use site that makes money from advertising. We have a modified experience for viewers using ad blockers

Wikia is not accessible if you've made further modifications. Remove the custom ad blocker rule(s) and the page will load as expected.