This article contains creatures from concept art. It may not exist in the Warcraft universe.

This article is kept purely for historical purposes and should probably not be under any other categories.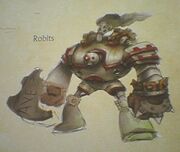 Robits appear to be an unknown race within a heavy duty mechanical armor. Their name is a play on words, meaning robots. It's unclear if they are just concept art or may show up in a future expansion or patch.[1] However, it's possible they are a previous form of the fel reavers.
References
Edit