Robes of the Battleguard

Item Level

76

132 Armor
+23 Stamina
+17 Intellect
+8 Spirit
Durability 100 / 100
Requires level 60
Equip: Increases spell power by 36.
Equip: Increases your spell penetration by 20.
The Robes of the Battleguard are cloth chest armor with intellect, spirit, and a lot of stamina. It also increases damage and healing done by spells and provides spell penetration. Due to its high stamina, its a very good item for warlocks.
This item drops from Battleguard Sartura in the Temple of Ahn'Qiraj.
The estimated droprate is 11%.
This item is basically a recolor of Robes of Insight.
External links
Edit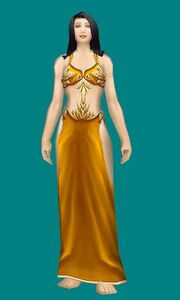 Ad blocker interference detected!
Wikia is a free-to-use site that makes money from advertising. We have a modified experience for viewers using ad blockers

Wikia is not accessible if you've made further modifications. Remove the custom ad blocker rule(s) and the page will load as expected.