103,468pages on
this wiki
Talk

0
Robert Gossom

Gender
Male
Race
Forsaken (Humanoid)
Level
20
Health
484
Location
The War Quarter, The Undercity
See
Robert Gossom can be found in the War Quarter in the Undercity. He stands near Tyler.
Warcraft III
In Warcraft III, Tyler and Robert are two humans of the local populace in Vandermar Village. They are seen punching each other. After Arthas "visited" the village, they must have[citation needed] became part of the Undead Scourge and later the Forsaken.
Although never visible in-game, opening the Warcraft III map file for the first Undead mission reveals Robert's tooltip as the following: "Robert-Paul's son is slow and lumbering, but he makes up for this with great vitality and a mean left hook."
Trivia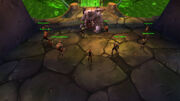 External links