Ad blocker interference detected!
Wikia is a free-to-use site that makes money from advertising. We have a modified experience for viewers using ad blockers

Wikia is not accessible if you've made further modifications. Remove the custom ad blocker rule(s) and the page will load as expected.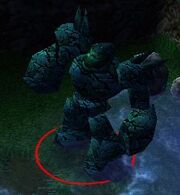 River Golem was hiding north of River Arevass when Illidan killed him in the eighth chapter of the Night Elf campaign in Warcraft III: The Frozen Throne. Illidan and Malfurion were together trying to save Tyrande from attacks by the Undead Scourge by attacking from opposite sides.
Statistics from Warcraft III
Edit
1500 HP
600 MP
61-68 chaos melee damage
46-51 chaos air damage
5 heavy armor
Abilities

Bash (attacks sometimes stun target)
War Stomp (AoE slow and damage around caster)
Hurl Boulder (ranged stun and damage for one unit)