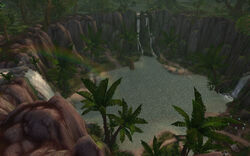 The River's Heart [48, 62] is located in the central part of the Sholazar Basin. It is a small lake, under the sea level, in which all of the rivers in the basin empty into. On its northeastern shore is the Lakeside Landing, which is home to Pilot Vic, a Cold Weather Flying trainer, Marvin Wobblesprocket the flight master, and Tamara Wobblesprocket, a quest giver and Marvin's presumed wife. The lake itself is infested with Stranded Threshers that were washed in from the rivers that lead into it from the sea.
Ad blocker interference detected!
Wikia is a free-to-use site that makes money from advertising. We have a modified experience for viewers using ad blockers

Wikia is not accessible if you've made further modifications. Remove the custom ad blocker rule(s) and the page will load as expected.