The subject of this article has been removed from World of Warcraft.

This includes items and quests that can no longer be obtained.
The in-game information in this article is kept purely for historical purposes and should probably not be under any other categories.
Ritual Candle

Unique (5)
"A ritual candle from the depths of Jaedenar, new home of the Shadow Council."
As a quest objective
Edit
This item was said to be for a warlock only quest that no longer exists in-game.
As an object
Edit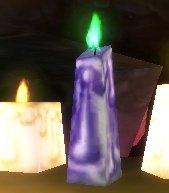 The Ritual Candle is located deep within Jaedenar of Felwood. [37.7, 54.7]
External links
Edit
Ad blocker interference detected!
Wikia is a free-to-use site that makes money from advertising. We have a modified experience for viewers using ad blockers

Wikia is not accessible if you've made further modifications. Remove the custom ad blocker rule(s) and the page will load as expected.