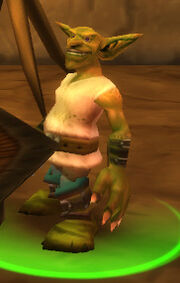 Rilli Greasygob is a former goblin quest giver located within Nogg's Machine Shop[56.8, 56.4] in The Drag in the orcish city of Orgrimmar.
Removed quests
Edit


Note: These quests are no longer associated with this particular mob/NPC/item.
Patch changes
Edit
Patch 4.0.3a (2010-11-23): Moved from the Valley of Honor; quest removed; model updated.

External links
Edit