Rhinoceros
Redirected from Rhino
103,856pages on
this wiki
Talk

1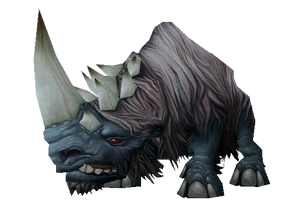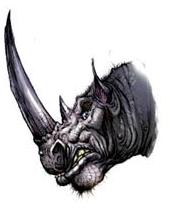 The rhinoceros, or rhino, is infamous for its bad temper and willingness to charge intruders. They are about 6 to 14 feet long, 3 to 6 feet high at the shoulder, and can weigh up to 6,000 pounds. When it is harassed or annoyed, a rhinoceros lowers its head and charges.[1] Some druids choose them as their animal companion.[2] They can be summoned by druids as nature's allies.[3]
Rhinos with wooly coats of hair can be found in the Borean Tundra in Northrend.[4]
Subspecies
Edit
Note: Rhinos are classified as Clefthooves.
The subspecies below can be tamed by hunters.
Blue
Brown
Grey
White
Mobs with levels can be tamed by beastmaster hunters.
Vanity/Battle pet
Edit
Patch changes
Edit
References
Edit
External links
Edit
Petopia