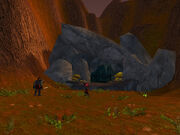 Render's Rock is a large cave in the northwestern Redridge Mountains near the entrance to the Burning Steppes. The cave, much like Render's Valley and Render's Camp, is named after Rend Blackhand and contains a number of powerful Blackrock orcs.
Render's Rock is also the location of the wounded Corporal Keeshan, who needs help in getting to Lakeshire in one piece.
Ad blocker interference detected!
Wikia is a free-to-use site that makes money from advertising. We have a modified experience for viewers using ad blockers

Wikia is not accessible if you've made further modifications. Remove the custom ad blocker rule(s) and the page will load as expected.