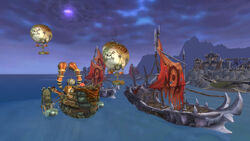 The Remains of the Fleet[82, 50] are all that remains of the Horde naval and air fleets after an ambush by the twilight dragonflight and Deathwing. The shattered remnants of the Horde war machine lie scattered near the shores of Dragonmaw Port in the Twilight Highlands after a long trip from Azshara.
Inhabitants
Edit
This subzone only exists for the very beginning of the Horde experience in the Highlands. After Return to the Highlands it is phased out, as Dragonmaw Port is expanded to include a massive dock.
Patch changes
Edit
External links
Edit
Ad blocker interference detected!
Wikia is a free-to-use site that makes money from advertising. We have a modified experience for viewers using ad blockers

Wikia is not accessible if you've made further modifications. Remove the custom ad blocker rule(s) and the page will load as expected.