Reins of the Twilight Drake

Item Level

70

Requires level 70
Requires Riding (300)
Use: Teaches you how to summon this mount. Can only be summoned in Outland or Northrend. This is a very fast mount.
This item drops from Sartharion in the 25-man version of the Obsidian Sanctum. It drops only if all three Twilight Drakes have been taken alive into the boss fight. It can only be distributed to one person per clear and has a speed increase of 280%.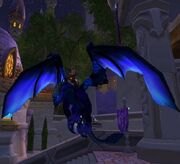 External links
Edit
Ad blocker interference detected!
Wikia is a free-to-use site that makes money from advertising. We have a modified experience for viewers using ad blockers

Wikia is not accessible if you've made further modifications. Remove the custom ad blocker rule(s) and the page will load as expected.