For the Horde version, see Reins of the Black War Mammoth (Horde).
Reins of the Black War Mammoth
Item Level 40
Races: Human, Dwarf, Night Elf, Gnome, Draenei
Requires level 40
Requires Riding (150)
Use: Teaches you how to summon this mount. This is a very fast mount.
Vendor 2000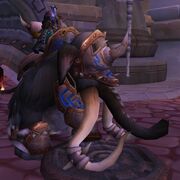 This mount may be bought from from

 Knight Dameron <Wintergrasp Quartermaster>[51, 17] for 2000

. He appears when the

Alliance have control over the Wintergrasp Fortress.
Prior to patch 4.0.1 this cost 300
.
External links