103,470pages on
this wiki
Talk

1
| | |
| --- | --- |
| | The subject of this article or section is part of Feast of Winter Veil, a seasonal event that lasts several weeks. Once the event has run its course, this will no longer be available until next year, but there are no guarantees. |

The Red Winter Hat was a novelty hat, but was changed to Cloth armor as of Patch 2.3.
Source
NOTE: I SAW A LEVEL 13 WEARING THE RED WINTER HAT IN GAME ON 12-26-12 BASED ON THE INFORMATION I READ IN THIS AND WHAT I JUST SAW I CLAIM IT IS NOT FULLY ACCURATE!!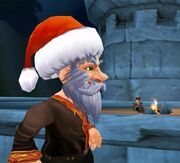 During the Feast of Winter Veil, the Red Winter Hat is a very rare world drop for humanoid and undead mobs.
At the same time, the hat is also a boss drop for specific mobs based on which expansions the player owns.
For those that own only the basic game, the hat drops from:
For those that own The Burning Crusade, the boss drops change to:
For those that also own Wrath of the Lich King, the boss drops change to:
In 2007 the hat dropped from all six Azeroth and Outland bosses regardless of expansions owned. With the Cataclysm expansion Grand Magus Telestra only drops the hat in heroic mode.
Note: You will know if the boss will drop the hat only if the hat is shown on the boss' head.
See also
Patch changes

Patch 4.0.3a (2010-11-23):
bosses only drop it in heroic. Stonecore heroic.


/
Patch 3.0.2 (14-Oct-2008): Now drops from Grand Magus Telestra and Jedoga Shadowseeker.


Patch 2.3.0 (13-Nov-2007): This item is now cloth. In addition, it now also drops from various Burning Crusade bosses.

Patch 1.2.0 (18-Dec-2004): Added.

External links