Reins of the Red Proto-Drake

Item Level

70

Requires level 70
Requires Riding (300)
Use: Teaches you how to summon this mount. Can only be summoned in Outland or Northrend. This is a very fast mount.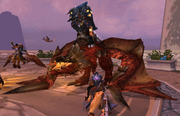 This item teaches you how to summon the Red Proto-Drake mount. You must complete the Dungeons & Raids achievement

25 


 [Glory of the Hero] to receive this reward. This is a 280% mount.

After you complete the achievement,

 Alexstrasza the Life-Binder sends you the Drake included with the following letter:
Glory of the Hero
Champion.
Word has traveled to Wyrmrest Temple of the great heroic deeds you have accomplished since arriving in Northrend.
Your bravery should not go unrecognized. Please accept this gift on behalf of the Aspects. Together we shall rid Azeroth of evil, once and for eternity.
Alexstrasza the Life-Binder
See also
Edit
External links
Edit
Ad blocker interference detected!
Wikia is a free-to-use site that makes money from advertising. We have a modified experience for viewers using ad blockers

Wikia is not accessible if you've made further modifications. Remove the custom ad blocker rule(s) and the page will load as expected.