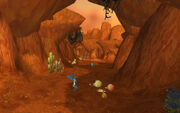 Razorwind Canyon is the nesting ground for the Dustwind harpies of Durotar. Adventurers had better prepare themselves for battle before heading into this area, as the aggressive bird women are quite numerous through the canyon, and can quickly subdue or kill unwary travelers.
Ad blocker interference detected!
Wikia is a free-to-use site that makes money from advertising. We have a modified experience for viewers using ad blockers

Wikia is not accessible if you've made further modifications. Remove the custom ad blocker rule(s) and the page will load as expected.