"Come on, you apes. You want to live forever?" [1] (

TCGSoB 152

)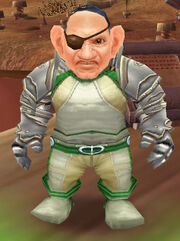 Razak Ironsides is a level 70 quest giver located at Toshley's Station in the contested territory of Blade's Edge Mountains.
He starts the quest

 [67] Cutting Your Teeth.


His name is a reference to Lieutenant Jean Rasczak from Starship Troopers, played by actor Michael Ironside.

See List of Blade's Edge Mountains NPCs.
External links
Edit
Ad blocker interference detected!
Wikia is a free-to-use site that makes money from advertising. We have a modified experience for viewers using ad blockers

Wikia is not accessible if you've made further modifications. Remove the custom ad blocker rule(s) and the page will load as expected.