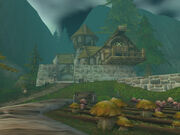 Ravenholdt Manor is the headquarters for the Ravenholdt faction.
For those having trouble finding it, there is a plateau slightly northwest of Durnholde Keep in Hillsbrad Foothills. At the back of this plateau, where it meets the mountains (the Alterac Mountains, incidentally), you should find a small path leading up into the mountains
REDIRECT Template:Map/Coords. This path twists back and forth, goes through a small cave, and then leads to Ravenholdt Manor. There is a chest that will spawn Milton Beats if you open it.
See Ravenholdt for more information.
Valentine's Day Seasonal Event
Edit
During the Valentine's
event
quest line before
patch 3.3.0
, adventurers are led to a valley behind the manor to find
Apothecary Staffron Lerent
. To reach this valley, first go to the manor then look for a small fighting ring to the right of the manor entrance. Behind that fighting ring is a small mountain pass. Go through that pass and hang a sharp left, and the apothecary will be directly in front of you.
[89, 74]
Ad blocker interference detected!
Wikia is a free-to-use site that makes money from advertising. We have a modified experience for viewers using ad blockers

Wikia is not accessible if you've made further modifications. Remove the custom ad blocker rule(s) and the page will load as expected.