This article contains creatures from concept art. It may not exist in the Warcraft universe.

This article is kept purely for historical purposes and should probably not be under any other categories.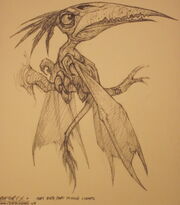 A raptoryx is a half-lizard, half-bird creature that resembles a pterrordax and can likely be found on the Lost Isles. They are likely inspired by the archaeopteryx.
Ad blocker interference detected!
Wikia is a free-to-use site that makes money from advertising. We have a modified experience for viewers using ad blockers

Wikia is not accessible if you've made further modifications. Remove the custom ad blocker rule(s) and the page will load as expected.