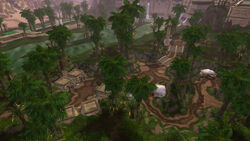 The Ramkahen Legion Outpost[58.9, 46.3] is located across the water from the Akhenet Fields and just south of the Vir'naal Dam in Uldum. This is where Ramkahen soldiers train under the watchful eye of High Commander Kamses. The area appears to be broken into several sections. Not including the section with Kamses, there is a barracks, training field, and archery range.
Inhabitants
Edit
Quest givers
NPCs
Patch changes
Edit
External links
Edit
Ad blocker interference detected!
Wikia is a free-to-use site that makes money from advertising. We have a modified experience for viewers using ad blockers

Wikia is not accessible if you've made further modifications. Remove the custom ad blocker rule(s) and the page will load as expected.