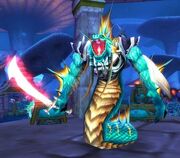 Rajah Haghazed is an elite level 63 naga myrmidon and leader of the Darkcrest naga in Zangarmarsh [65, 69]. His counterpart is the naga siren Rajis Fyashe.
Strategies
Edit
Immune to snare, root and fear. At half health he switches from sword and shield to polearm dropping his armor significantly, but hits harder and starts using mortal strike.
Some classes may be able to solo him with difficulty at the level you pickup this quest, such as paladins, pet users and properly specced mages, but it is generally a much better idea to form a group.
Objective: Slay Rajah Haghazed at the Lagoon and return to Warden Hamoot at the Cenarion Expedition in Zangarmarsh for a reward.
External links
Edit
Ad blocker interference detected!
Wikia is a free-to-use site that makes money from advertising. We have a modified experience for viewers using ad blockers

Wikia is not accessible if you've made further modifications. Remove the custom ad blocker rule(s) and the page will load as expected.