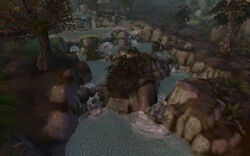 The Rainspeaker Rapids [64, 50] are a series of waterfalls that flows from The Avalanche to River's Heart. The Avatar of Freya is at constant battle here with the invading Scourge forces.
Ad blocker interference detected!
Wikia is a free-to-use site that makes money from advertising. We have a modified experience for viewers using ad blockers

Wikia is not accessible if you've made further modifications. Remove the custom ad blocker rule(s) and the page will load as expected.