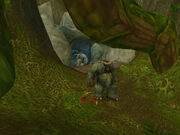 Rage Scar Hold is a dug in cave in northwestern Feralas, it contains the most vicious yetis in the area itself.
Books and symbols within the cave seem to indicate the Yetis are studying this kind of magic unless it was owned by some unfortunate magi in the past.
Ad blocker interference detected!
Wikia is a free-to-use site that makes money from advertising. We have a modified experience for viewers using ad blockers

Wikia is not accessible if you've made further modifications. Remove the custom ad blocker rule(s) and the page will load as expected.