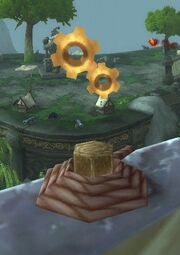 Objectives
Edit
Use a Rappelling Rope to reach the ground.
Description
Edit
Nazgrim has taken command of the ground assault and has requested that you be sent to meet up with him immediately.
We have several rappelling ropes setup near the guns. Fastest way down you're going to find, save the one that ends poorly.
Completion
Edit
There you are!
I was starting to worry we'd have to charge in and have all the fun without you.
You will receive:
Progression
Edit
Patch changes
Edit
External links
Edit
Ad blocker interference detected!
Wikia is a free-to-use site that makes money from advertising. We have a modified experience for viewers using ad blockers

Wikia is not accessible if you've made further modifications. Remove the custom ad blocker rule(s) and the page will load as expected.