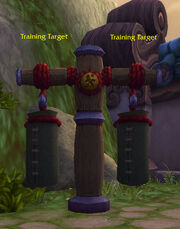 Objectives
Edit
Destroy 5 Training Targets.
Training Targets destroyed (5)
Description
Edit
I'd like to observe you putting your new weapon(s) to use, my young student. This will aid me in determining what degree of training will be best suited to your talents.
We have many training targets in the training grounds below. Practice your attacks upon them, and return to me once you're feeling comfortable with your new weapon(s).
Completion
Edit
Not bad, <name>. You may indeed have chosen the proper path.
Good. Let us continue.
You will receive:
You will be able to choose from the following rewards
Item
Class
 

[

Initiate's Wristwraps

]

 Mage
 Priest
 

[

Initiate's Armguards

]

 Warrior
 

[

Initiate's Bracers

]

 Hunter
 Monk
 Rogue
 Shaman
Quest progression
Edit
Patch changes
Edit
External links
Edit
Ad blocker interference detected!
Wikia is a free-to-use site that makes money from advertising. We have a modified experience for viewers using ad blockers

Wikia is not accessible if you've made further modifications. Remove the custom ad blocker rule(s) and the page will load as expected.