Quest:The Lesson of the Iron Bough
102,958pages on
this wiki
Talk

0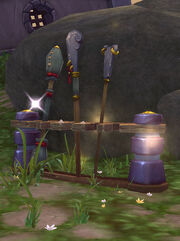 Description
First, you will need weapons suited to your talents. Retrieve <trainee's weapon> from one of the weapon racks below, bring it to me, and show me that you know how to hold it properly.
Notes
[Richt Click] on the trainee's weapon in your inventory to equip it.
The default key to open your bags is [B].
Objectives
Loot and equip
Rewards
You will receive:
Completion
A fine weapon. It should suit your needs well.
Now let's put it to use.
Quest progression
Patch changes