102,958pages on
this wiki
Talk

0
Not yet released!

* This article or section includes information about announced content that has not been released

yet.

The expected release date is

unknown

.

Please remove this template when the content has gone live.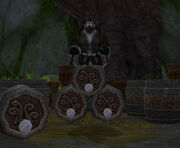 Objectives
Stand by and help Chen Stormstout with his brew.
Description
We have everything we need. It's time to start brewing.
Pay attention, <name>... you might learn a thing or two.
Completion
Thanks for waiting so long. You are as patient as you are brave.
Rewards
You will receive:
Dialogue
Chen Stormstout says: Very well, <name>. I will need your help making this beer.
Chen Stormstout says: When I yell out the names of ingredients, you throw them in the pot...
Chen Stormstout yells: I am kidding!
Chen Stormstout says: I am the best brewer across three continents! I think I can handle this part.
Mudmug yells: Yup!
Chen Stormstout says: If you wouldn't mind waiting, <name>... this might take a long time.
Fade to black. Chen now sits atop casks of his completed beer.
Li Li says: That DID take a long time!
Progression
 [86] 

Chen's Resolution

Complete all of the following:
Patch changes
External links