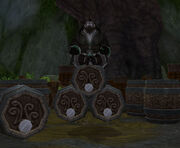 Objectives
Edit
Stand by and help Chen Stormstout with his brew.
Description
Edit
We have everything we need. It's time to start brewing.
Pay attention, <name>... you might learn a thing or two.
Completion
Edit
Thanks for waiting so long. You are as patient as you are brave.
You will receive:
Dialogue
Edit
Chen Stormstout says: Very well, <name>. I will need your help making this beer.
Chen Stormstout says: When I yell out the names of ingredients, you throw them in the pot...
Chen Stormstout yells: I am kidding!
Chen Stormstout says: I am the best brewer across three continents! I think I can handle this part.
Mudmug yells: Yup!
Chen Stormstout says: If you wouldn't mind waiting, <name>... this might take a long time.
Fade to black. Chen now sits atop casks of his completed beer.
Li Li says: That DID take a long time!
Progression
Edit
 [86] 

Chen's Resolution

Complete all of the following:
Patch changes
Edit
External links
Edit
Ad blocker interference detected!
Wikia is a free-to-use site that makes money from advertising. We have a modified experience for viewers using ad blockers

Wikia is not accessible if you've made further modifications. Remove the custom ad blocker rule(s) and the page will load as expected.