Objectives
Edit
Escort Professor Phizzlethorpe to the cave and back.
Description
Edit
Now that we are full-fledged Blackwater Raiders it is our job to help Mr. O'Breen locate the lost elven treasure.
It is next to impossible to find the gems in the dark sea without aid. The doctor has constructed some goggles that will help. He needs the goggles charged with the energy derived from the enchanted stone in the cave just up the hill.
But the cave is cursed! When we get close, we get ambushed. Defend me and I can harness the energy from the stone into the goggles.
Completion
Edit
The goggles work perfectly now! Well done, <name>.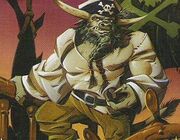 Spawns two level 40 water elementals, which are immune to frost, initially. If you follow the gnome into the cave, more will spawn. It's suggested to stay in the mouth of the cave to avoid this.
Quest progression
Edit
 [40] 

Sunken Treasure (2)

 [40] 

Sunken Treasure (3)

 [40] 

Sunken Treasure (4)

 [40] 

Sunken Treasure (5)
External links
Edit
Ad blocker interference detected!
Wikia is a free-to-use site that makes money from advertising. We have a modified experience for viewers using ad blockers

Wikia is not accessible if you've made further modifications. Remove the custom ad blocker rule(s) and the page will load as expected.