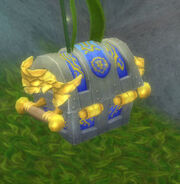 Objectives
Edit
Find 6 Stormwind Seal Equipment.
Description
Edit
You've done us a great service, <class>, so I'm going to let you in on a little secret. The men you've saved today aren't your everyday Stormwind troops.
We belong to a special detachment of elite soldiers sent here not only to contend with the Horde, but to investigate the massive geological disturbances originating from the nearby sea floor.
I tell you this because our top secret equipment lies in the bottom of some of our wrecked ships here.
That gear must be retrieved!
Progress
Edit
Were you able to secure that equipment, <class>?
Completion
Edit
Everything here seems to be in working order.
You will receive:
The lockers are often inside the capsized ships, but not all of them are.
Quest progression
Edit
Patches and hotfixes
Edit
External links
Edit

FranksPlace.org
Cataclysm Zone Portals Guide