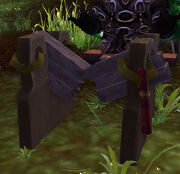 Objectives
Edit
Gather 12 Abandoned Stone Blocks.
Description
Edit
Gather me stone blocks from the Ridge of Laughing Winds to the south.
Progress
Edit
The strength of the body cannot exist without the strength of the mind.
Completion
Edit
Good.
My head, it is harder than the strongest stone.
Step back, and let me dispel your doubts.
You will receive:
Dialogue
Edit
Jojo stacks the blocks.
These are the densest stones across all of Shen-zin Su, yet they are as nothing before my mighty head.
Any who yet doubt my strengths are simply foolish.
Progression
Edit
Complete the following:
Complete the following:
Patch changes
Edit
External links
Edit