Were you looking for Quest:Sins of the Sea Witch (Alliance)?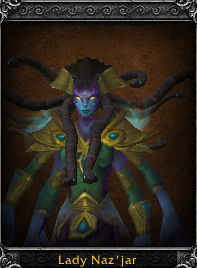 Objectives
Edit
Legionnaire Nazgrim wants you to slay Lady Naz'jar[50.4, 21.4].
Description
Edit
Naz'jar! She's the one responsible for this mess.
She's in here somewhere, <name>. She must be exhausted after that fight with Neptulon.
Now is the time to strike! We won't have another opportunity like this.
I'll handle anything that tries to aid her from this direction.
Find her, <name>, and run her through!
Completion
Edit
Hellscream shall know of your deeds here, <name>.
Without you, things here would be far worse.
Lok'tar ogar, my friend!
You will receive:
You will also be able to choose one of the following:
Patch changes
Edit
External links
Edit
Ad blocker interference detected!
Wikia is a free-to-use site that makes money from advertising. We have a modified experience for viewers using ad blockers

Wikia is not accessible if you've made further modifications. Remove the custom ad blocker rule(s) and the page will load as expected.