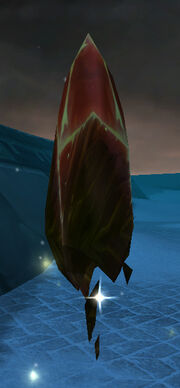 Objectives
Edit
Quetz'lun's Spirit has demanded that you collect 10 Underworld Power Fragments. Return to her at the Altar of Quetz'lun only when you have done so.
Description
Edit
I will give you a chance at continued existence.
There are fragments of the power that fueled my curse scattered about the altar grounds. It is my desire that you collect some of them for me. Not so many that the curse will be lifted, but enough that I will be able to eventually make use of them to exact revenge upon my prophet.
Go, insect. Run and do my bidding before I change my mind about letting you live.
Progress
Edit
What a shame that Har'koa didn't send you along sooner. Then again, she and I never did get along.
She probably held back your help just long enough for this to happen.
Completion
Edit
They'll do. Likely I won't even need them.
But it was fun watching you run around at my command.
Quest progression
Edit
External links
Edit
Ad blocker interference detected!
Wikia is a free-to-use site that makes money from advertising. We have a modified experience for viewers using ad blockers

Wikia is not accessible if you've made further modifications. Remove the custom ad blocker rule(s) and the page will load as expected.