Objective
Edit
Cairne Bloodhoof in Thunder Bluff wants you to bring him the Horn of Arra'chea.
Description
Edit
You have passed the Rites of the Earthmother and earned your place in Thunder Bluff.
But in order to maintain the spot that you strived so hard to achieve, you must continue to prove your worth to your people.
We are hunters, <name>. Down below in Mulgore there is a mighty kodo named Arra'chea. Show me your skills in the ways of tracking and hunting by bringing me the Horn of Arra'chea.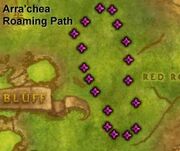 Arra'chea travels in a circular path northeast of Thunder Bluff. He spawns at the northeast corner of Thunder Bluff and following the path slowly in a clockwise direction.
Quest progression
Edit
External links
Edit
Ad blocker interference detected!
Wikia is a free-to-use site that makes money from advertising. We have a modified experience for viewers using ad blockers

Wikia is not accessible if you've made further modifications. Remove the custom ad blocker rule(s) and the page will load as expected.