Obejctive
Edit
Speak with Zarlman Two-Moons in Bloodhoof Village.
Description
Edit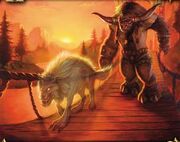 The Rite of Vision, one of the Rites of the Earthmother, will help guide you toward earning the respect of the elders of Thunder Bluff.
Our people have learned that the land is our most holy provider. In order to take part in the ritualistic vision, you must speak with the spiritual leader of the village, Zarlman Two-Moons.
Completion
Edit
I sensed you would be coming to me, <class>. I can always recognize one who is trying to pass the Rites of the Earthmother.
Quest progression
Edit
External links
Edit
Ad blocker interference detected!
Wikia is a free-to-use site that makes money from advertising. We have a modified experience for viewers using ad blockers

Wikia is not accessible if you've made further modifications. Remove the custom ad blocker rule(s) and the page will load as expected.