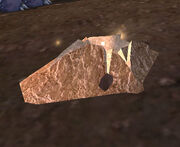 Objectives
Edit
Move 6 Plump Marmots off of Thunderfoot Farm, and fill in 6 Marmot Holes.
Description
Edit
I went off this morning to watch my papa fight the virmen. When I came back, the farm was full of marmots!
I don't want to kill them, but we need to get rid of them. Hey, I know! We can close the holes!
Fill in their holes with dirt, so they can't come out in our farm anymore.
Completion
Edit
Thank you, <ma'am/sir>! Now I can get back to my chores.
You will receive:
The marmots are all over the small farm. Clicking on them will launch them in the air!
Holes are also all over, but marmots will aggro when nearby holes are disturbed, so it is best to launch them away first.
Dialogue
Edit
On acceptance:
Ana Thunderfoot says: The marmots get mad if they see you ruining their holes. Just nudge them out of the way first, and they'll leave you alone.
Progression
Edit
Patch changes
Edit
External links
Edit
Ad blocker interference detected!
Wikia is a free-to-use site that makes money from advertising. We have a modified experience for viewers using ad blockers

Wikia is not accessible if you've made further modifications. Remove the custom ad blocker rule(s) and the page will load as expected.