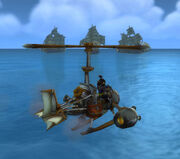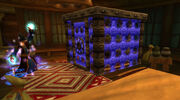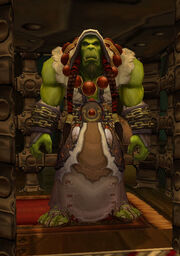 Objectives
Edit
Locate the precious cargo below deck on the Alliance ship,
Vengeance Wake
[12.9, 63.4]
, off the shore of the
Lost Isles
.
Description
Edit
They said that their "precious cargo", whatever that is, is being held on the Alliance ship, the Vengeance Wake.
There's only one thing to do... fly this thing out there and retrieve it!
Completion
Edit
If not for you, I would surely be on my way back to Stormwind to be paraded as a trophy and a slave.
The Alliance dogs found me unconscious on the shore and put me in this magical cage. It was keeping me from connecting with the elements.
No longer!
You will receive:
Accepting the quest will automatically put the player on the gyrochoppa, which will fly out to the Vengeance Wake and blow up as it reaches the deck. Head astern and below deck to the captain's quarters.
On landing:
Find the Precious Cargo!
Quest progression
Edit
Patch changes
Edit
External links
Edit
Ad blocker interference detected!
Wikia is a free-to-use site that makes money from advertising. We have a modified experience for viewers using ad blockers

Wikia is not accessible if you've made further modifications. Remove the custom ad blocker rule(s) and the page will load as expected.