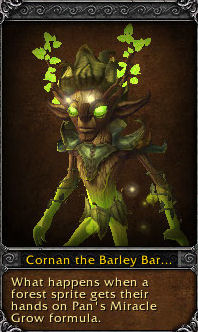 Objectives
Edit
Defeat Cornan the Barley Barbarian.
Description
Edit
Just to be clear, what happened was an accident. What I did, I did for INDUSTRY!
There was no way I could have known that a sprite invasion would happen at any time, or that one of them would try to eat my new "Pan's Miracle Gro" formula.
Now not only do they have a big sprite leading them, but he's one angry beast.
If I pay you, will you take him out?
Completion
Edit
Now that that's over I have some ideas on how to make a new concoction. We'll see.
Thank you for your help. Here is your reward.
You will receive:
Progression
Edit
 [86] 

Chen's Resolution

Complete all of the following:
3.  [86] 

The Emperor
Patch changes
Edit
External links
Edit
Ad blocker interference detected!
Wikia is a free-to-use site that makes money from advertising. We have a modified experience for viewers using ad blockers

Wikia is not accessible if you've made further modifications. Remove the custom ad blocker rule(s) and the page will load as expected.