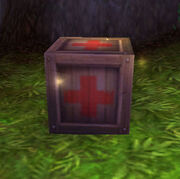 Objectives
Edit
Recover 8 Crates of Medical Supplies.
Description
Edit
We need supplies to tend to our wounded, but the supply crates containing them were scattered in the crash. If you can bring back any crates you find, I would be very grateful.
Progress
Edit
Did you find the boxes I spoke of?
Completion
Edit
These will do perfectly. I'll get my medics to work immediately.
Thank you.
You will receive:
Progression
Edit
Patch changes
Edit