Objectives
Edit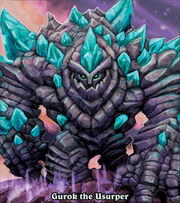 Gordawg at the Throne of the Elements in Nagrand has asked that you destroy Gurok the Usurper and bring back Gurok's Earthen Head.
Description
Edit
Gurok must be summoned. You summon Gurok and you destroy.

You must go to Warmaul Hill to the northwest and find where ogre worships Gurok. You put ogre skull from Warmaul ogres on Gurok's earthen brand. Only then will Gurok come. Seven skulls.

If you live, bring Gordawg back Gurok earthen head. Gordawg crushes head.

<Gordawg bites down hard, shaking the earth beneath your feet.>
You will be able to choose one of these rewards

Item Level

100

+23 Agility
Equip: Increases hit rating by 13
Equip: Increases attack power by 20.

Item Level

100

+13 Intellect
Equip: Improves critical strike rating by 23.
Equip: Increases spell power by 12.

Item Level

100

+13 Intellect
Equip: Increases spell power by 12.
Equip: Restores 9 mana per 5 sec.
Progress
Edit
Gordawg eat Gurok power.
Completion
Edit
<Gordawg chomps down hard on Gurok's earthen head, nearly disintegrating the stone formation.>

Gurok's reign has come to an end. The earthen elements are free. All sleep now. Champion gets reward!
Upon completion of this quest you will gain:
17450 XP (or 10 47 at level 70)
Quest progression
Edit
Ad blocker interference detected!
Wikia is a free-to-use site that makes money from advertising. We have a modified experience for viewers using ad blockers

Wikia is not accessible if you've made further modifications. Remove the custom ad blocker rule(s) and the page will load as expected.