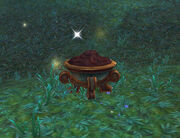 Objectives
Edit
Light the Northern Fog Ward[16, 32.1], the Western Fog Ward[14.9, 36.8], and the Southern Fog Ward[18.1, 41.5].
Description
Edit
Trainee.
Several wards surround us, hidden in the woods near my home. They are quite effective at dispersing the mist, but they require constant upkeep.
You will find one to the north, one to the west, and one to the south. Find these wards and light them.
Completion
Edit
You honor your people, <name>.
You will receive:
You will be able to choose from the following rewards
Item
Class
Spec(s)
 

[

Necklace of Three Sins

]

 Druid
 Monk
 Paladin
 Priest
 Shaman





 

[

Necklace of Relative Peace

]

 Druid
 Hunter
 Monk
 Rogue
 Shaman





You will be able to choose from the following rewards
Item
Class
Spec(s)
 

[

Otouxian Amulet

]

 Death Knight
 Paladin
 Warrior



 

[

Jhuuroon's Collar

]

 Mage
 Warlock


 

[

Amulet of the Singing Marshes

]

 Death Knight
 Paladin
 Warrior



Progression
Edit
Patch changes
Edit
External links
Edit