Finders, Keepers

Start
Legionnaire Nazgrim
End
Legionnaire Nazgrim
Level
81
Requires Level 80
Category
Kelp'thar Forest
Experience
27,700 XP
or 16619 at Level 110
Reputation
+250 Orgrimmar
Rewards
7 80
Previous

Helm's Deep

Next

Bring It On!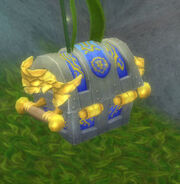 For the Alliance version of this quest, see

Stormwind Elite Aquatic and Land Forces
Objectives
Edit
Gather 5 pieces of Stormwind SEAL Equipment
Description
Edit
I recognize this helm, <race>. You were wise to bring it to me.
The Alliance have a special unit, trained and equipped to explore and fight beneath the sea.
It would seem that they are in this region to do more than just defend against our attack.
There must be more of these down here, and if you can find them it could turn things around for the Vanguard.
Progress
Edit
Were you able to locate more of the Alliance gear, <name>?
Completion
Edit
Well done!
Now, more than ever, we are prepared to face the naga!
You will receive:
Head northeast to Honor's Tomb. The lockers are often inside the capsized ships, but not all of them are.
Quest progression
Edit
Patches and hotfixes
Edit
External links
Edit

FranksPlace.org
Cataclysm Zone Portals Guide