Objectives
Edit
Search the Deadwood furbolg camp in northern Felwood for a clue.
Description
Edit
This greenish liquid... it reminds me a bit of the sludge I saw when traveling through Felwood. And I have seen some Winterfall Runners passing into Timbermaw... Perhaps these things have something to do with the flask you found, <name>.
There is a large group of furbolg just past Timbermaw Hold, in Felwood. Called the Deadwood tribe, they have been corrupted and driven mad by the fel. Why don't you look around there and see if you can find any evidence of dealings between the Winterfall and the Deadwood?
Completion
Edit
Inside the cauldron bubbles a rotting, repulsive-smelling substance...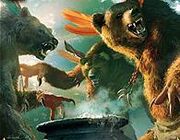 Upon completion of this quest you will gain:
Quest progression
Edit
The Cauldron is located at 60.3, 5.9 in Felwood.
External links
Edit
Ad blocker interference detected!
Wikia is a free-to-use site that makes money from advertising. We have a modified experience for viewers using ad blockers

Wikia is not accessible if you've made further modifications. Remove the custom ad blocker rule(s) and the page will load as expected.