Objectives
Edit
Take the Writhing Choker to Stefan at Ebon Watch.
Provided Item:
Description
Edit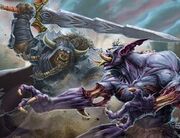 Crafted of bone and dripping with blood, this choker is of intricate and deliberate design.
Gazing upon it overwhelms you with an ominous presence - one that compels you to wear it. You fight the urge, and resolve to bring it back to Ebon Watch.
If anyone can explain this, a death knight can....
Completion
Edit
I am indeed familiar with items such as this.
<Stefan looks you in the eye.>
It would seem, <name>, that you have been... chosen.
Quest progression
Edit
 [75] 

An Invitation, of Sorts...

– or –  [75] 

Darkness Calling

 [75] 

Near Miss

– or –  [75] 

Close Call

 [75] 

You Can Run, But You Can't Hide

– or –  [75] 

Silver Lining

 [75] 

Dressing Down

– or –  [75] 

Suit Up!

 [75] 

Infiltrating Voltarus

 [75] 

So Far, So Bad

 [75] 

Hazardous Materials

 [75] 

Sabotage

 [76] 

Betrayal
External links
Edit
Ad blocker interference detected!
Wikia is a free-to-use site that makes money from advertising. We have a modified experience for viewers using ad blockers

Wikia is not accessible if you've made further modifications. Remove the custom ad blocker rule(s) and the page will load as expected.