Borderlands

Start
Mei Barrelbottom
End
Mei Barrelbottom
Level
86
Category
Krasarang Wilds
Experience
111,000 XP
or 666 at Level 110
Rewards
9 80
Previous

Tears of Pandaria

Next

Zhu's Despair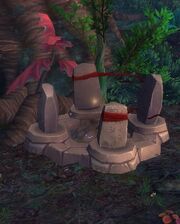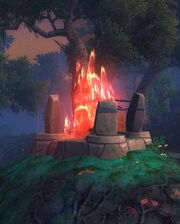 Objectives
Edit
Light the Memorial Flame of Zhu[72.8, 18.1], Memorial Flame of Rin[71.3, 17.6], and Memorial Flame of Po[75.3, 17.1] along the southwest border of Zhu Province.
Memorial Flame of Zhu
Memorial Flame of Po
Memorial Flame of Rin
Provided item:
Description
Edit
Bonfires are surprisingly effective at discouraging beasts from wandering out of the wilds. We have three along the border to the southwest which we normally keep lit at all times.
Nobody's been there for days, though, and the fires must be out by now. It's only a matter of time before the wilds creep back in and overtake the land we have kept safe for centuries.
Please, re-ignite the bonfires. They are critical in keeping the province safe, and they are memorials to the founders of our way of life.
Completion
Edit
Thank you, <name>.
Zhu Province serves as a corridor from the upper tier of the valley down to the sea.
Keeping the province safe requires daily efforts to maintain a border against the savage Krasarang Wilds.
You will receive:
Progression
Edit
Ken-Ken's quests:
Mei's quests:
 [86] 

Finding Yi-Mo

 [86] 

Cheer Up, Yi-Mo

 [86] 

Tears of Pandaria
Final quest:
 [86] 

Zhu's Despair
Patch changes
Edit
External links
Edit