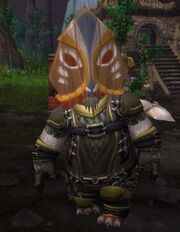 Objectives
Edit
Use Ken-Ken's Mask to cure 8 Despondent Wardens of Zhu in Zhu's Watch.
Despondent Wardens of Zhu Cured (8)
Provided item:
Description
Edit
Well... THAT was unexpected!
Come to think of it, now Ken-Ken remember why hozen use mask in the first place...
A legend about the Monkey King says he used a mask to cure old pandaren emperor, Shaohao, when he was too sad to lead his people. Then they buried mask--with all his sadness--in the ground.
We should use the mask on more pandaren, but instead of putting sad away in ground, we gonna PUNCH ITS BUTT.
Let's do this, <name>!
Completion
Edit
We saving pandaren, but the land still sad... Look, rain's not stopping at all!
<Ken-Ken shakes his tiny fists at the sky.>
How many more butts we gotta punch before we fix this town?!
<The sky darkens in response.>
You will receive:
Progression
Edit
Ken-Ken's quests:
Mei's quests:
 [86] 

Finding Yi-Mo

 [86] 

Cheer Up, Yi-Mo

 [86] 

Tears of Pandaria
Final quest:
 [86] 

Zhu's Despair
Patch changes
Edit
External links
Edit
Ad blocker interference detected!
Wikia is a free-to-use site that makes money from advertising. We have a modified experience for viewers using ad blockers

Wikia is not accessible if you've made further modifications. Remove the custom ad blocker rule(s) and the page will load as expected.