You hope to have A Promising Start with your new business partner.
Objectives
Edit
Gather 15 Nether Dragonkin Eggs, then return to Tyri and Jorad on the Celestial Ridge.
You will need:
Description
Edit
We've come here to investigate rumors of a strange breed of dragons, perhaps even descendents of Deathwing himself. These are clearly not ordinary black dragons, though.
We'll know more once we've had a chance to examine their eggs. Their hatred for my flight runs deep, so I can't get close enough to gather the eggs. Will you agree to help?
Progress
Edit
Were you able to gather the eggs?
Completion
Edit
These will work quite nicely, <name>. Thank you for agreeing to help us.
Before we can continue, however, there is something else we'll need to address.
You will receive: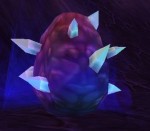 The eggs are scattered all over the Ridge. They appear to be blackish eggs with blue crystals sticking out of them.
Dwarves can use their Treasure Finding ability to pinpoint the eggs.
This quest is much easier if you are

neutral

with Netherwing. You can become neutral be completing a quest chain in Shadowmoon Valley which starts with  [70] 

Kindness

from Mordenai.
Quest progression
Edit
External links
Edit
Ad blocker interference detected!
Wikia is a free-to-use site that makes money from advertising. We have a modified experience for viewers using ad blockers

Wikia is not accessible if you've made further modifications. Remove the custom ad blocker rule(s) and the page will load as expected.