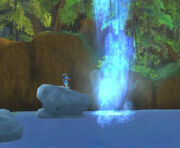 Objectives
Swim into 5 of Shu's Water Spouts.
Play with the Spirit of Water
Description
He wants you to play with him. Go for it!
Completion
I have to admit, that looked pretty fun from my angle.
And you seem to have made a new friend.
Rewards
You will receive:
You will be able to choose from the following rewards
Item
Class
 

[

Playful Wristbands

]

 Mage
 Priest
 

[

Glistening Breastplate

]

 Warrior
 

[

Gloves of Splashing Water

]

 Hunter
 Monk
 Rogue
 Shaman
Notes
While in the Pool, players will be given the following buff:
They need to run to the splashing water that appears, stand in the center, and then get shot into the air for it to count.
Be sure to press forward as you are thrown into the air, otherwise you fall underwater when you land.
You take no falling damage, despite the buff.
Progression
Patch changes