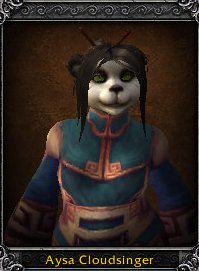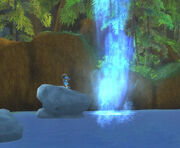 Objectives
Edit
Swim into 5 of Shu's Water Spouts.
Play with the Spirit of Water
Description
Edit
He wants you to play with him. Go for it!
Completion
Edit
I have to admit, that looked pretty fun from my angle.
And you seem to have made a new friend.
You will receive:
You will be able to choose from the following rewards
Item
Class
 

[

Playful Wristbands

]

 Mage
 Priest
 

[

Glistening Breastplate

]

 Warrior
 

[

Gloves of Splashing Water

]

 Hunter
 Monk
 Rogue
 Shaman
While in the Pool, players will be given the following buff:
Players need to run to the splashing water that appears, stand in the center, and then get shot into the air for it to count.
You take no falling damage, despite the buff.
It is helpful to look down as you are thrown; you can tell where the next water spout is going to be, despite landing underwater.
Aysa will appear onshore for the turn-in.
Progression
Edit
Patch changes
Edit
External links
Edit
Ad blocker interference detected!
Wikia is a free-to-use site that makes money from advertising. We have a modified experience for viewers using ad blockers

Wikia is not accessible if you've made further modifications. Remove the custom ad blocker rule(s) and the page will load as expected.