Qiraji Sacrificial Dagger is a one-handed dagger primarily for rogues, but hunters and fury specced warriors may find the stats useful as well.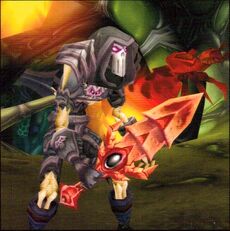 The dagger drops off Kurinnaxx, first boss in the Ruins of Ahn'Qiraj.
The dagger's estimated drop rate is 7%.
Patches and hotfixes
Edit

Patch 1.9.0 (03-Jan-2006): Added

External links
Edit
Ad blocker interference detected!
Wikia is a free-to-use site that makes money from advertising. We have a modified experience for viewers using ad blockers

Wikia is not accessible if you've made further modifications. Remove the custom ad blocker rule(s) and the page will load as expected.